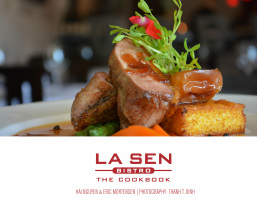 San Francisco Bay Area presents a unique diversity of culture and activity; it is a place that has a lot to offer anyone and everyone. The dining scene is certainly no exception. Many diners will travel across town to spoil their sophisticated palates with the latest trends in food. The Bay Area culinary scene offers a rich tapestry of flavors, colors, and scents with influences from all over the globe.

French-Vietnamese cuisine has become a part of the Bay Area's food tradition. The cuisine's origins began when the French colonized Viet Nam for over a century. During this time renaissance-inspired architecture began appearing in many parts of the Southeast Asian nation. Along with the architectural and cultural influences, the French also bequeathed the flavors and aromas of its cuisine that have blended nicely with that of Viet Nam. Many dining establishments, both old and new, continue to exude this colonial charm and luxurious beauty.

Vietnamese chefs from all over are beginning to reintroduce some old, almost-forgotten recipes while experimenting with modern cooking techniques and exploring new flavor profiles. At La Sen Bistro, we take pride in reviving the old traditions of French-Vietnamese culture and cuisine while serving up new concoctions to today's generation of food enthusiasts.

La Sen Bistro is a French-California destination located in Concord, within close driving distance of San Francisco. In the Vietnamese language, La Sen means "lotus leaves," but it also represents a deeper meaning. We aim to encompass a type of French cooking that has no defined borders and seamlessly marries influences of the French, the Vietnamese, and the diversity of the Bay Area. Our philosophy is quite simple: Cooking comes from the intuition, imagination, and passion for good food.

Bon appétit and cheers to great company!


---
Photos: Jose Carlos Fajardo - Contra Costa Times/MercuryNews.com

[The chef] demonstrates precision in his sauces and plate presentations. Thick slices of duck breast stay moist napped with a peppery gastrique of honey and robust stock ($19). Whipped parsnips and teaspoons of sherry sauce play into the succulence of seared scallops ($20). And the filet mignon ($25) draws flavor from reduced and enriched veal stock. All of these entrees are attractively and purposefully arranged - San Francisco Chronicle - April 26, 2013

The Salade Nicoise and Soupe a l'Oignon were my favorite dishes. French onion soup has a greasy tendency, but this one was far from it. Rather, I pierced the tent of broiled Emmentaler cheese to find soft, melty pieces of onion and soaked garlic croutons swimming in a savory-sweet broth. It's the best version I've had...La Sen does justice to the salad with a delicately pan-fried filet that is served on a bed of green beans, cherry tomatoes and the softest potato wedges dressed in an anchovy-tinged shallot vinaigrette - Contra Costa Times - February 21, 2013